Brom.Career: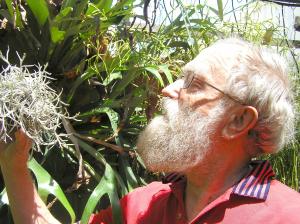 1934 was a vintage year in the UK but it took to 1957 before he saw the light and became an Australian. From then on he realised that Adelaide was a great place to grow Cactus. By the 1970ís he was corresponding with Karel Knize in Peru who shortly after included Tillandsias in his various collecting trips for Cactus around Peru. These were the good old days when importing was fairly easy and many Tillandsias arrived in Adelaide. Those who know Karel will realise that any similarity with the plant and label were coincidental! But the plants were not hybrids. Some of the original imports have not yet flowered and been identified!
In 1977 he was working towards the formation of the Bromeliad Society of South Australian and has held executive positions ever since
By 1991 Derek thought he knew enough about Tillandsias to publish a key to the grey Tillandsias. This key is now available,duly updated, on the fcbs.org website.
In the 1980ís he stirred up the Australian Bromeliad hybridists and started publishing lists of hybrids made in that Country. In 2000 he took over the reins of the International Bromeliad Cultivar Registrar until his resignation in 2008 when he was appointed as an Honorary Trustee of the BSI.
In 1998 he joined with Mike Andreas in developing http://fcbs.org website where he is known as Uncle Derek. In 2008 he was made a 'Friend' of fcbs in recognition of services rendered.
He has always been interested in small growing Tillandsias and in this same period he was busy translating papers by Dr Walter Till on the subgenus Diaphoranthema.
In corresponding with Walter to answer an untold number of queries he was able to import many of Walterís collections in 1994 to add to those from Knize.
In Derekís eyes, small has always been beautiful.