Bromelia Contactgroep (BCG)
P/a Botanische Tuinen Budapestlaan 17
3584 CD Utrecht

ABN-AMRO IBAN: NL66 ABNA0421855185 tel.030-253 9281
TILLANDSIA II
by Paul Isley III (Dec. 2009)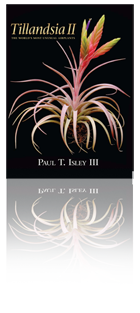 Let it be known that the long awaited Tillandsia II will be available in December. Paul has worked long and hard to bring forth a new treatment that will update much of what has been going on with Tillandsia in the past 22 years since the first book was published. The book will have 310 total pages which is some 30 pages more than the first edition. It is being crafter of the finest materials in order to not only look beautiful to the eye but to last in excellent condition for decades to come. Each copy will also have a clear plastic cover that will protect the dust jacket from finger prints, smudges and scratches. The dust jackets themselves are French folded to resist tearing, the book cover itself is of high quality cloth that is feels sensuous to the touch. The paper is archival quality and acid free to last for generations. It is also heavy enough to completely block the heavy and lavish use of color photos from bleeding through to the other side of the page. The pages were printed on new, state-of-the-art Heidelberg 8 color presses to ensure the most detail in every photo.
For those in the States it will be shipped the week after Christmas. For those in Australia it should be able to be shipped to you from Gil Teague in Sydney during the 2nd or 3rd week of December. The same is true for Andrew Flower in New Zealand, May Chen in Taiwan, Cheong Kin Loon in Singapore, Andy Tan in Malaysia, and Chatnara Chatkeaw in Thailand. For those in South Africa, the book can be ordered from Lyn Wegner and in Europe from Eric Gouda. It will be available February 2010.
To get an impression about the book, press here to see:
Price is
€ 62
Shipping and handling for EU-1 countries is € 21.50 (Bel., Lux., Den., Deu., Fr., It., Aus., Sp., UK., Swe.)
Shipping and handling for EU-2 countries is € 26.50 (Est., Fin., Hun., Ier., Let., Lit., Pol., Port., Slo., Tsj., Bul., Roe.). For other countries, please ask.
With bank transfer, be sure to pay for all bank costs, or add 4% for PayPal and Credit Card paiments.
This book is temporarily out of stock
Bromelia Contact Groep
Utrecht, The Netherlands
ING Bank information: IBAN: NL28INGB0005236061 BIC: INGBNL2A
Contact: Eric J. Gouda